Location of North Beach Camp Resort
Minutes outside historical downtown St. Augustine is a quaint little campground that boasts the best of both worlds – beach side and riverside. North Beach Camp Resort is a unique campground nestled along the banks of the Tolomato River and the Atlantic Ocean. It is unique since you can watch the sunrise on the ocean side in the morning and the sunset on the riverside in the afternoon. North Beach is one of those campgrounds that you want to stay at longer because it is relaxing to be there.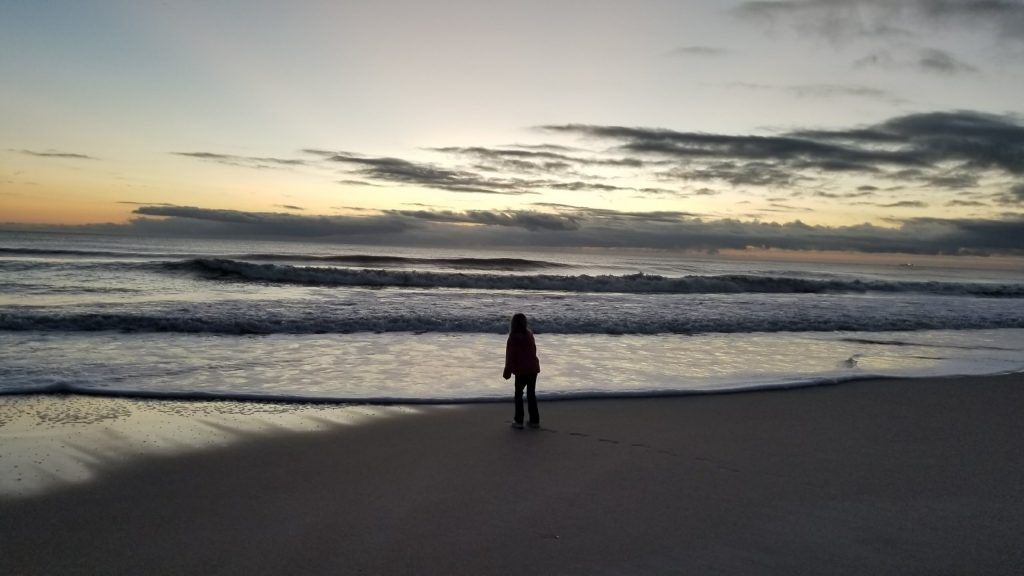 Campsites at North Beach Camp Resort
All of the campsites at North Beach are sandy and most are shady. They are also full-hook up with 30/50 amp service, minus cable. We spent a longer, Martin Luther King Jr. Day weekend at North Beach where we had a longer, wider site (#110). We had plenty of room to set up the trailer, roll out the awning and position the picnic table. We brought our own firepit which we used every night during our stay, especially since it was pretty chilly outside. Our site didn't have many trees for shade, but we didn't mind it at all.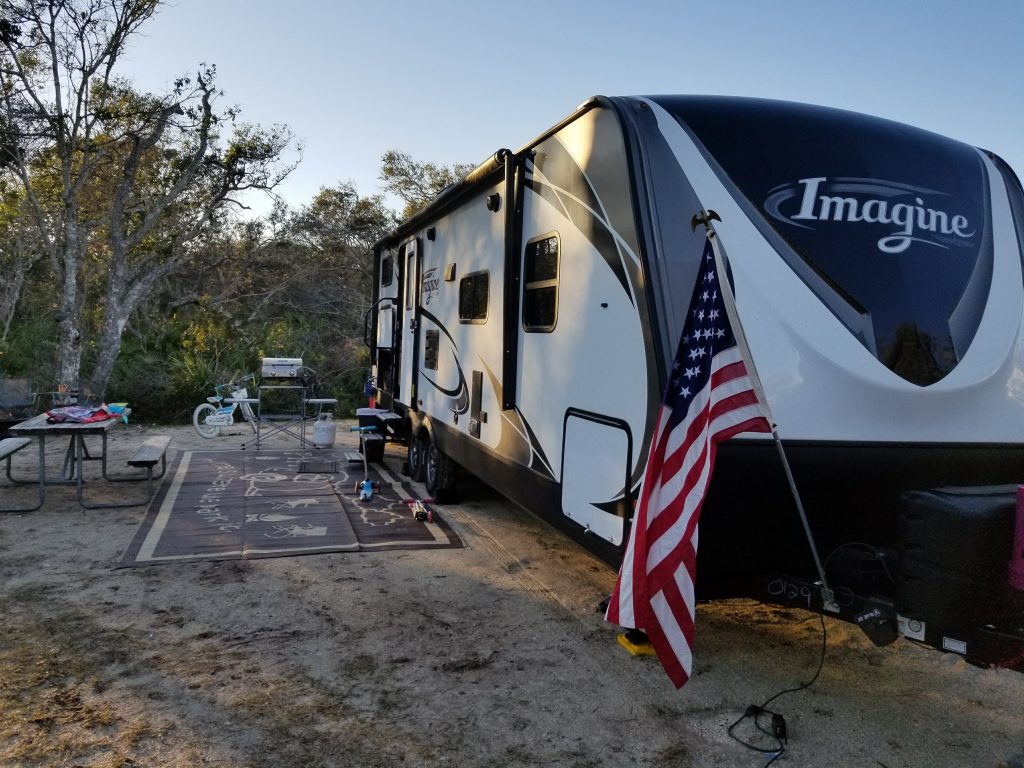 Activities at North Beach Camp Resort
The campground is comprised of compacted sand throughout. It just so happened that our youngest daughter was learning to ride on two wheels and the soft ground lent itself well to her while she was perfecting her skills. At the entrance of the campground, there is a nice camp store that carries all the basic camping staples. At the front is a swimming pool and a playground.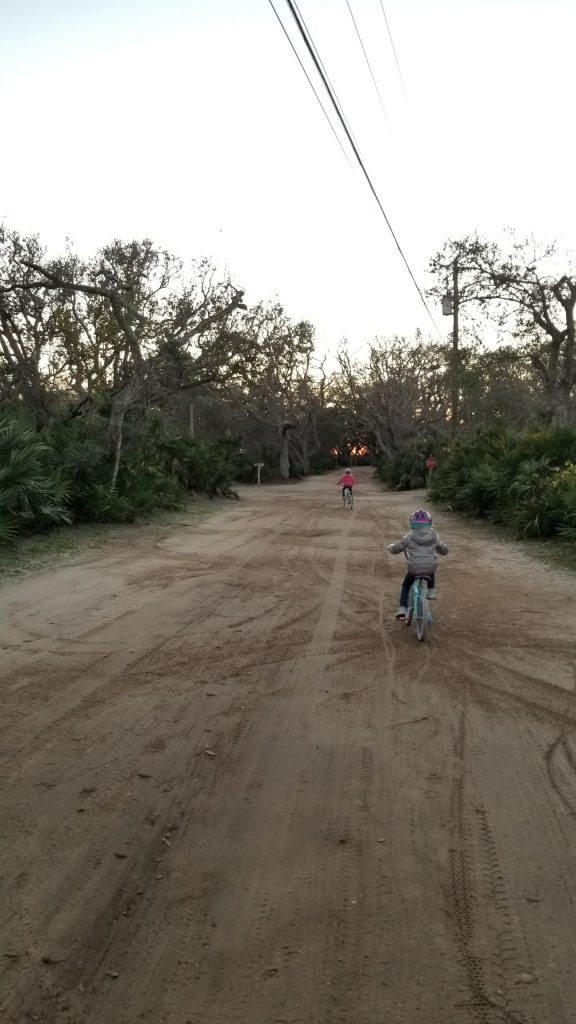 Other Things to do at/around North Beach Camp Resort
We managed to visit the playground, but it was too chilly during our visit to try out the pool. We rode our bikes as a family throughout the campground with ease as there was very little traffic. At the rear of the campground sits a very cool kid-friendly restaurant, Aunt Kate's, that serves burgers, fish sandwiches and other local favorites. They also have a full bar, indoor and outdoor seating and a nice boat dock. It is a great place to walk or bike down to for a quick bite, a cold drink and a glimpse of the sunset. The Reef restaurant, directly across the street from the North Beach entrance, offers a higher end dining choice. While we didn't visit it, it seemed to always have a crowd and does offer brunch on Sunday.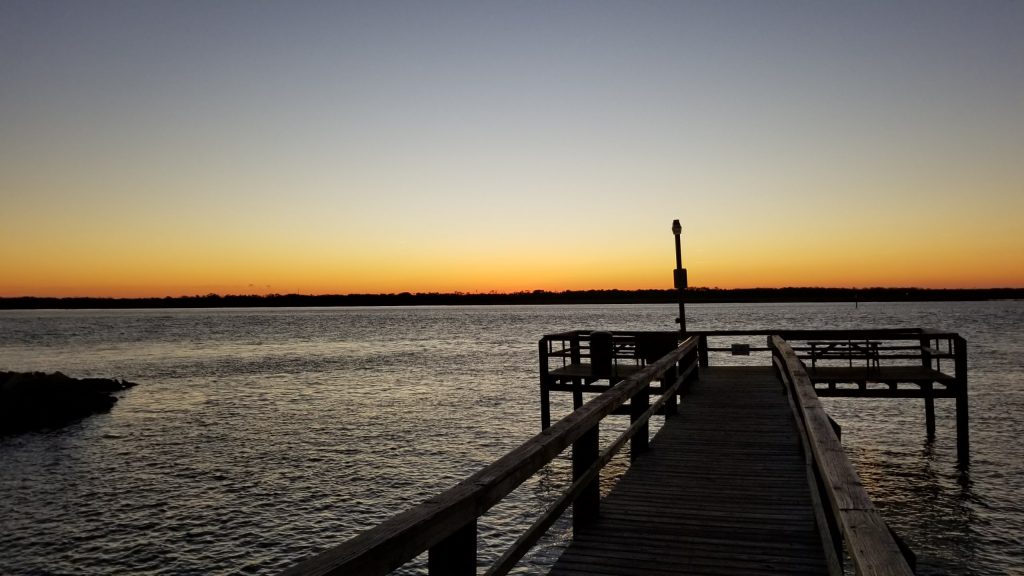 About 5 miles down the road from the campground is downtown St. Augustine. Find a public garage/lot and explore everything that is available in downtown St. Augustine. Bring your walking shoes, there is a lot of ground to cover. The downtown area lends itself to shopping, restaurants and the oldest masonry fort in the continental U.S., Castillo de Marco.  The fort offers paid guided tours, reenactments, or you can explore the outside for free. There is plenty to do and explore in the downtown area. During the holidays downtown is lit with thousands of lights.
Note: There are several pay to park areas surrounding the city center.
Also downtown is the must see and do St. Augustine Distillery. Florida's oldest ice plant was completely transformed to house the distillery. There are free tours running continuously throughout the day with lots of free samples. There is also a store that offers lots of cool bar accessories and spirits produced onsite. While the adults enjoy sipping on spirited cocktails, the distillery maintains a kid friendly atmosphere by offering fresh squeezed lemonade to those that can't partake in adult beverage activities.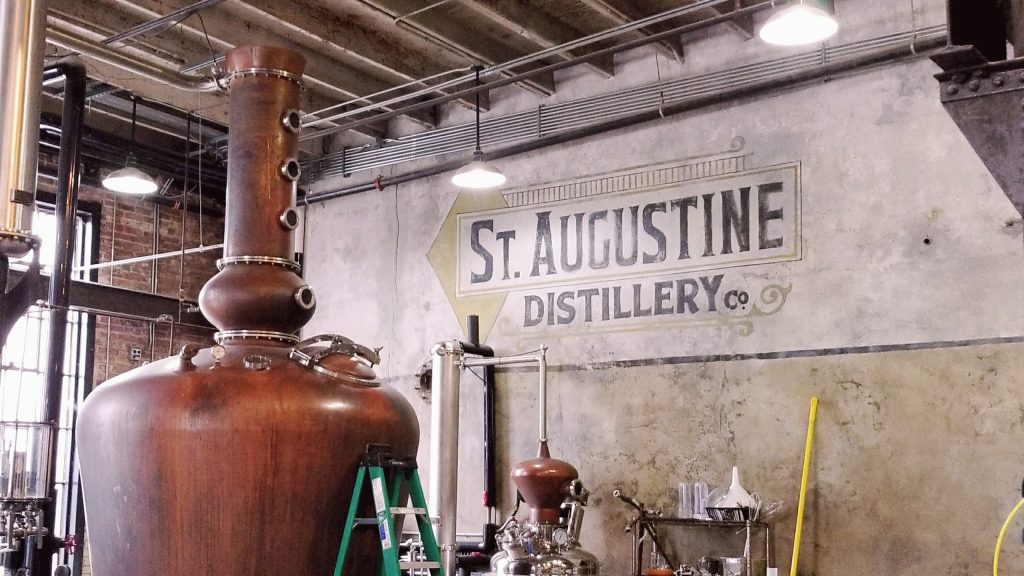 Recovery from Hurricane Irma
Hurricane Irma didn't take any mercy on the St. Augustine area. There were signs of significant beach erosion during our visit. Nonetheless, the beach was accessible and usable. During our chilly January weekend, we took the time to investigate some of the unique sites on the beach, including a washed up Coast Guard buoy.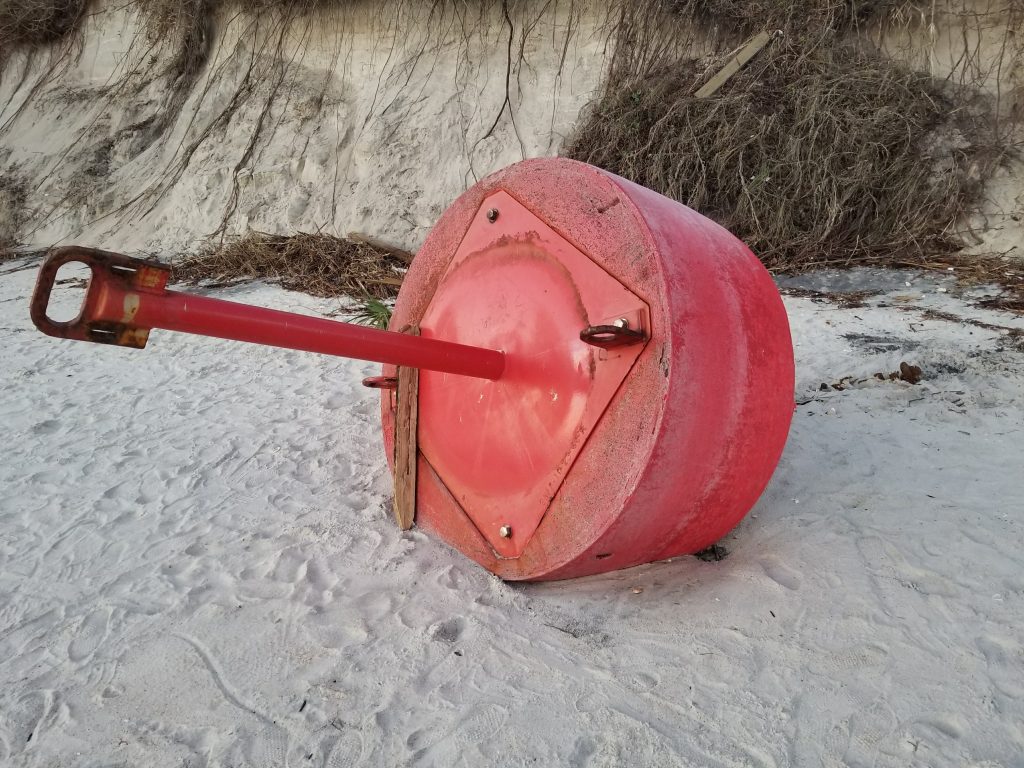 Tip: As of 11-MAY 2018, Beach access is being restored to pre-Irma state (source: North Beach Camp Resort posted on Facebook)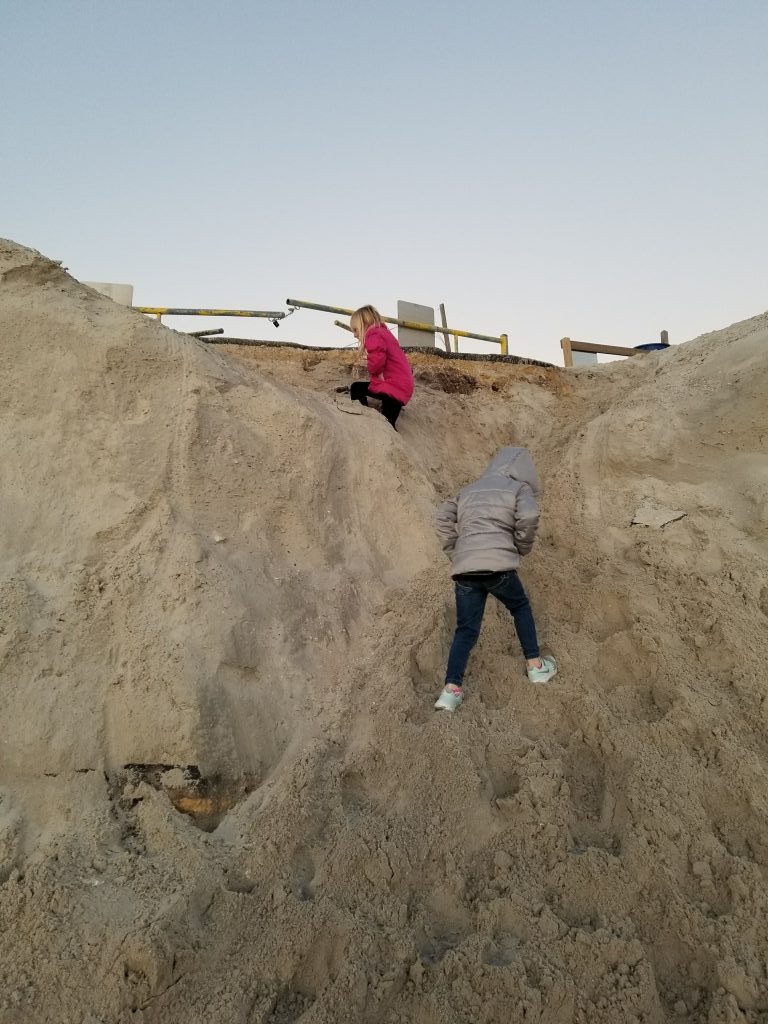 Summary of North Beach Camp Resort
North Beach Camp Resort is one of our favorite places to go. It's great if you want to just kick back and relax under the shade of the trees on your site, fish from the sand in the ocean, inshore fish on the river, or build sandcastles on the beach with your kiddos and dog.  Everyone we encountered was pleasant at the campground. We even sold a slew of Girl Scout cookies to fellow campers! We met many nice people on the beach at sunrise who were grateful to see our girls happily dancing around with their dolls.  North Beach will relax your soul and you will be ready to book your next trip there before you even leave. Our suggestion is to book early. You won't be disappointed!
See more campground reviews – Click Here