We do a lot of camping. We are not full timers, but we are the ultimate weekend warrior family campers.  On each of our weekend getaways, we quickly set up our camper and tear it down in synchronized fashion.  You could say we are more critical and attentive about things because we have seen great campgrounds run by helpful, understanding people and ones that were not so great. So I say this as a preface to our experience at Fort De Soto Campground, since it may seem a bit critical to some.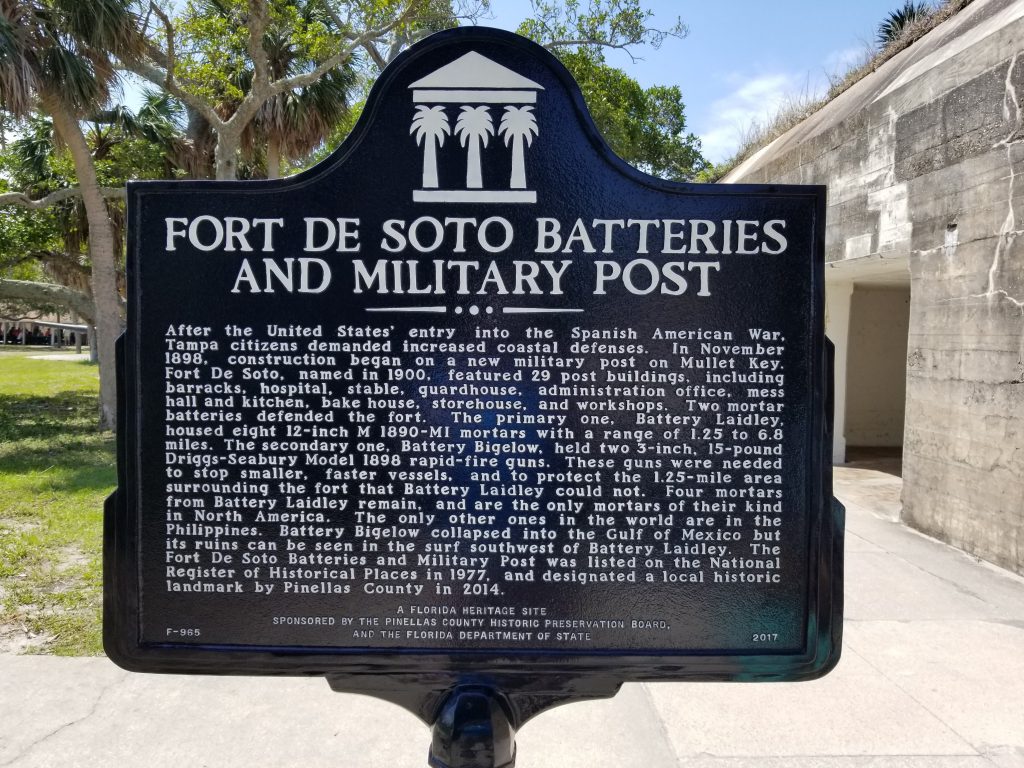 We arrived at Fort De Soto Campground on a Friday afternoon driving from Orlando during the heart of rush hour. We made good time and were happy to arrive with daylight on our side for setup.  The park is set in a key off the coast of St. Petersburg in Pinellas County.  To get there, you will incur some tolls, one of which is prior to the park entrance.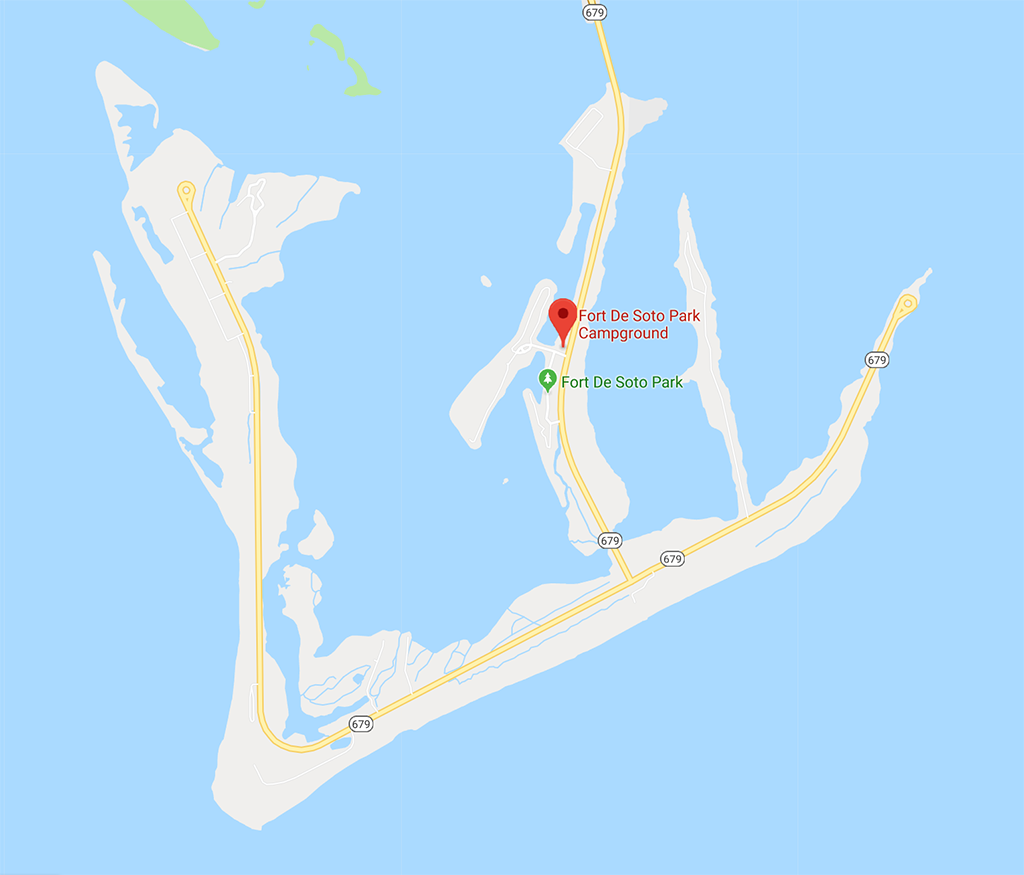 The park itself is sprawled out while the campground is tucked towards the front of the park. There are two loops (3 areas) to the campground, one that permits pets, the other does not. We were on site 92 on the pet friendly side which was an inside site without a water view. Our site was booked with a few other sites by a friend of ours who luckily got us a site at all.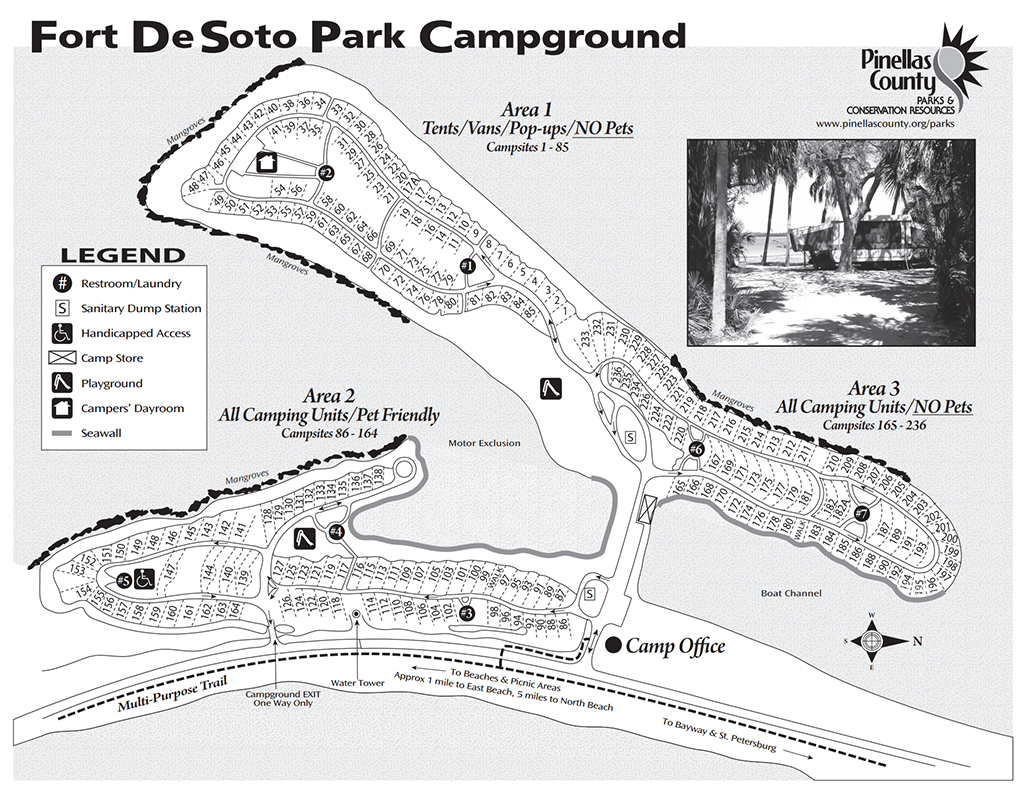 Tip: Booking at Fort De Soto is notoriously difficult. Look to book out 6 months in advance if you want a better choice of sites.
Grateful to at least have a site, we still would have loved to have had a site that backed up to the water since we are an avid fishing family.  Site 92 was narrow for our 32' travel trailer. We did our best to lay out our site to fit the picnic table, accommodate the existing BBQ grill and make room for our fire pit.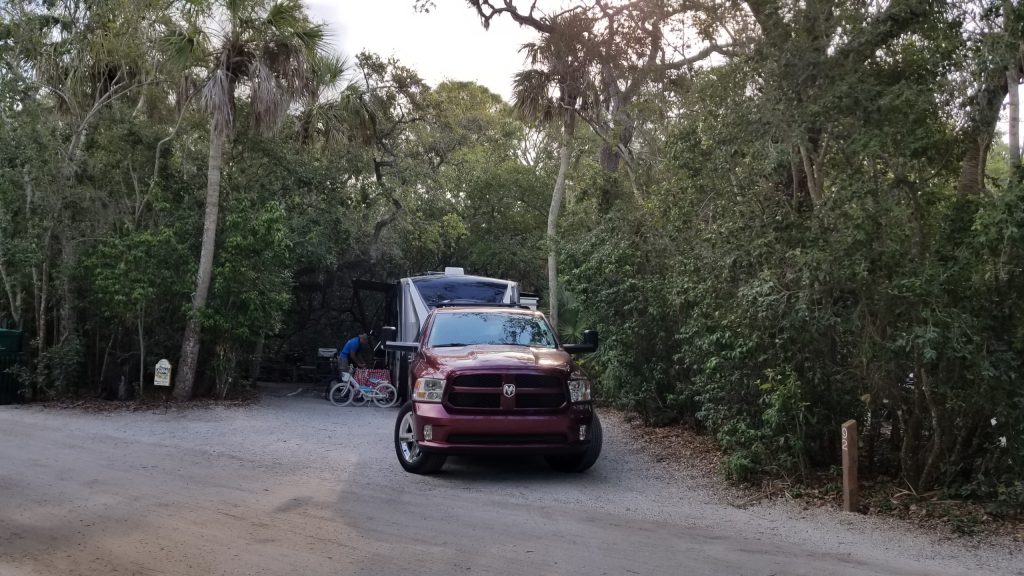 Tip: The campground does not supply a fire ring, so bring your own (not allowed May-September due to turtle nesting season)
The picnic table was large (8 ft instead of a standard 6 ft at most campgrounds). We moved it several times and never really found a good spot for it.  Looking at other campsites, there were some that were short, some that were wide, some that were long. All of the site sizes were very different in width and length. Our site and the campground itself just felt narrow. On the side with no pets, the sites were similar but a bit more spacious and pull thru sites available. None of the sites anywhere in the campground were equipped with sewer.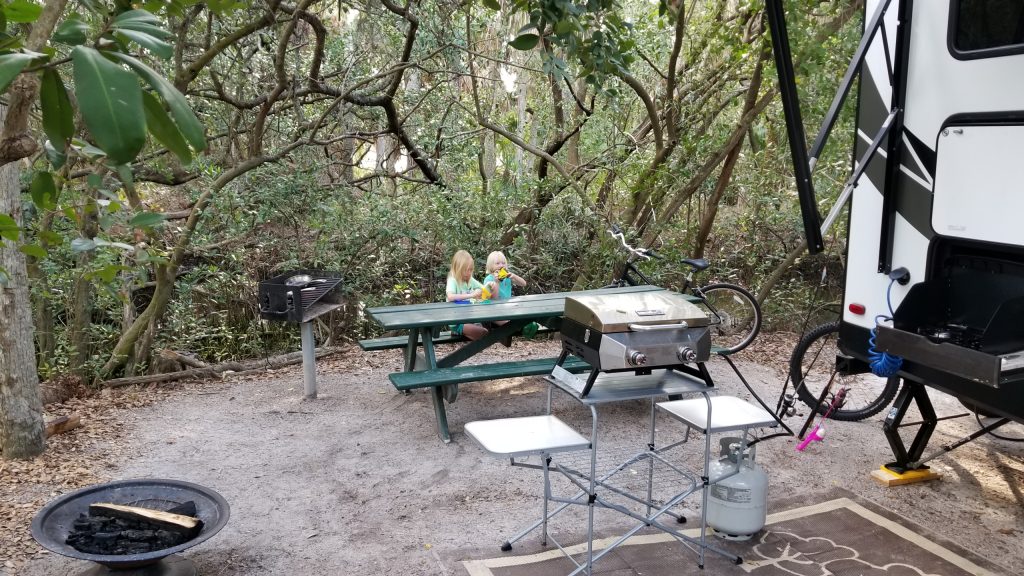 Rules, Rules and more Rules
No alcohol – In case the giant flashing construction sign isn't clear enough, its worth noting is that this park prohibited alcohol – including the campground. The sign even indicated that anyone who saw such use should report the violator and said violator would be subject to a $118 fine and ejection from the park.
10 pm Curfew – They have a strict 10 o'clock curfew for non-guests to leave the park.  We saw lots of rangers while camping. At 10:14 pm the first night and 10:18 pm the following night, they were patrolling the park. We even saw them escort 2 people on bikes past our campsite.
No Dishwashing – There are numerous signs around the bath houses that dishwashing is not allowed, and there is no dishwashing station.
Check out is 11:00 am – There are numerous reminders of the checkout time, including it written on all sides of the power box in sharpie.
Tip: Try to use plastic utensils and disposable plates, because the bath houses do not have a dish washing station, and with no sewer connection your grey water tanks will fill up fast.
Strangely, the public bath houses were closed for cleaning around 9:00 am on Sunday morning. Cleaning around this time when everyone is preparing for checkout by 11 am is crazy (especially when you don't have a sewer connection).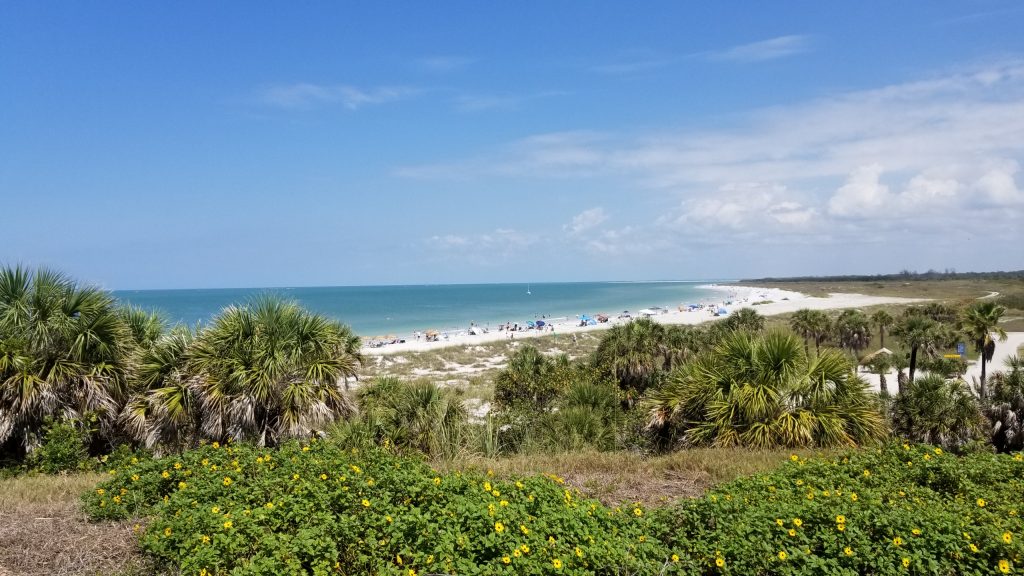 As for the rest of the park, the fort batteries were cool to walk through. The history dates back to the early 1900's during the Spanish-American War.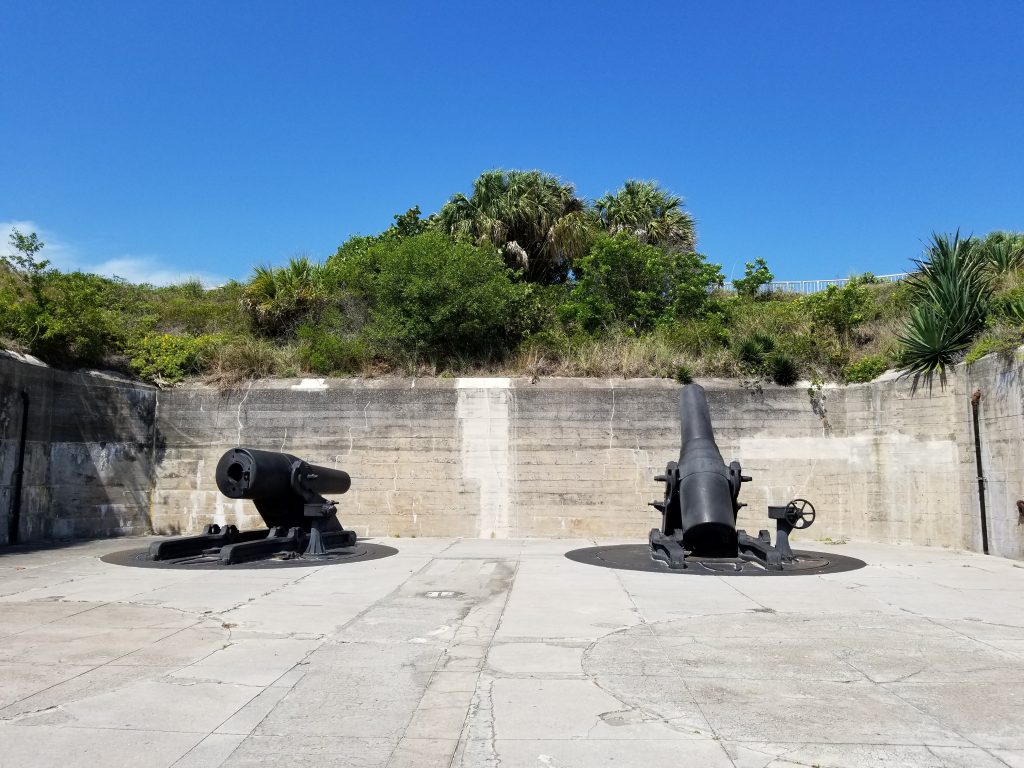 The beach areas were incredible. The sand was pure white and sugary.  The water was clean and the views around the bay were spectacular.  The fishing pier was well kept, and extremely busy during the weekend.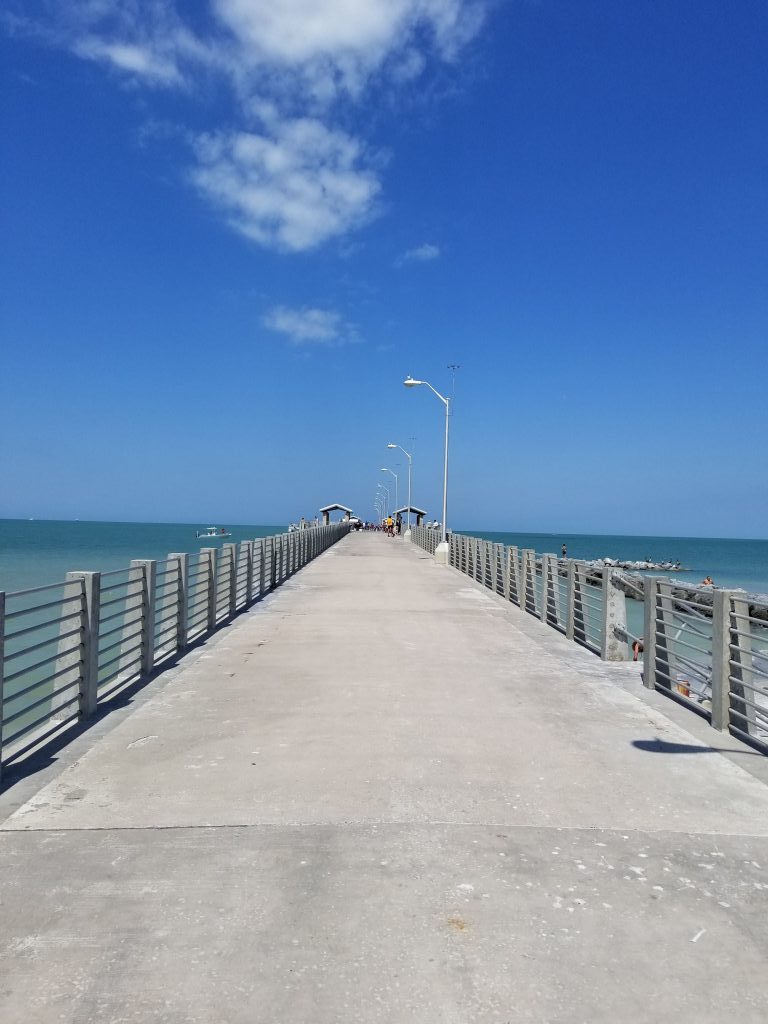 Because the park was so large, driving is a must to get from place to place. There were bike paths, but riding could be several miles. This wasn't practical with small children.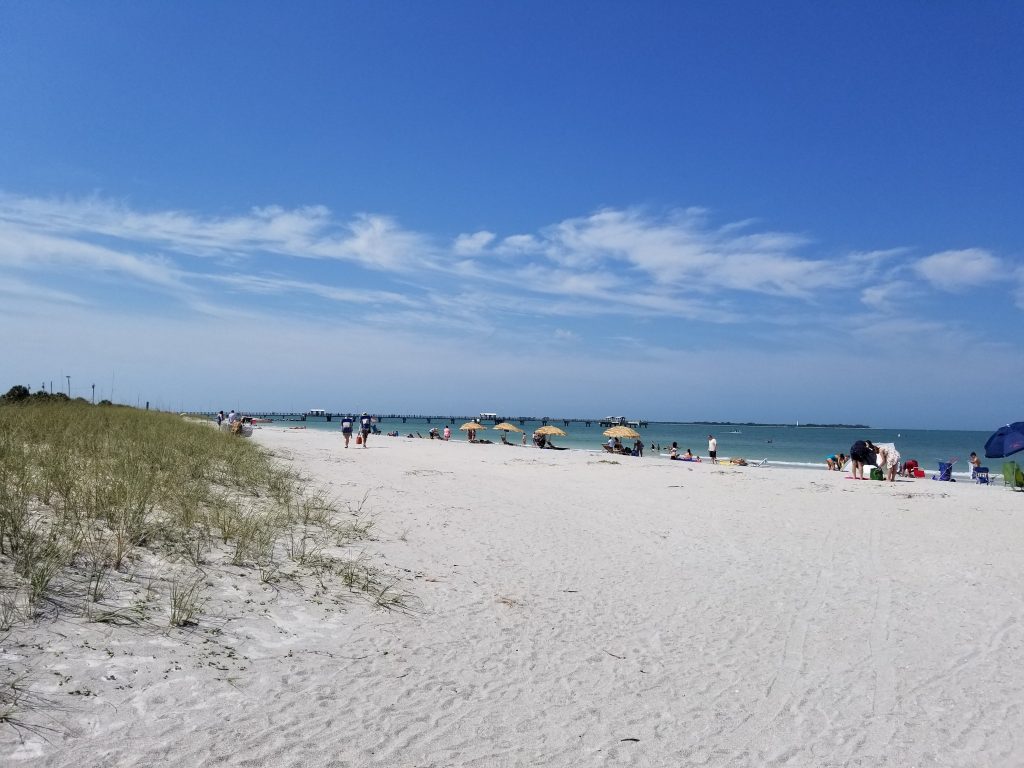 Final thoughts on Fort De Soto is that it was a cool place to visit, but not a place we would likely stay at again. Between the close quarters of the campsites and the feeling like the rangers were hovering over you all time, it was a bit uncomfortable. If you need a good daytrip to see some great sites or take in a beautiful beach, Fort De Soto is a great place to check out – at least once.
See our other campground reviews – Click here